October 18th, 2009
Before I completely part with this travel journal for a while, I wanted to list some of the more detailed logistics that made this trip possible.
All of the writing for this trip was done on my iPhone, and a large majority of the restaurants we patroned were also the products of the Yelp app. In fact, prior to leaving on the trip, I had set up neither the custom travel journal template nor used the WordPress App to write anything before.
Therefore, I completed coding the custom travel timeline header all from the FTPontheGo App, which made me appreciate both my MacBook's full keyboard as well as Coda's syntax recognition engine.
All of the hotels we stayed in were both comfortable and reasonable in price. Although the restaurants were all different, all of them were good.
For reference, all of the more vital logistics are listed below:
The Map
View Larger Map
The iPhone Apps
The Hotels
The Restaurants
Cambridge, MA
Leominster, MA
Clarksburg, MA
Lake Placid, NY
North Conway, NH
Gardiner, ME
Boston Harbor, ME
Verona Island
Boston
Etc
October 18th, 2009
Well the floor is gently vibrating under me now, the pressurized cabin and floating through the dark night's sky, and I turn back to look at the last week from above.
It was a week of countless experiences, sights too beautiful to take in all at once, and thoughts too complicated for a vacated mind. So I held off, waiting until tonight to process it all – that's where I went wrong. Summing up a week's worth of anything in a single night is an ill-fated task. But who knows, it could be fun.
My Dad & Garik
My dad has always talked about Garik in the highest regard, as his intellectual kindred spirit of sorts. For me it's always been interesting to hear my parents discuss their friendships and lives in general in this way because it humanizes them, brings them down from the pedestal that I've held them atop, and makes them seem more real, warm, and close. As time once again shows, happiness is being understood, and the power of that understanding should not be underestimated, or overlooked.
Seeing the way that my dad and Garik interacted, not just the discussion topics (see below) but also their overarching attitudes toward each other and the world around them was fascinating. Maybe it is because I have yet to meet someone who knows as much if not more than my dad – I'm not sure – but there's something about their friendship that's unique, and all-together explains my dad's prior descriptions of Garik.
And so as we ended our last night in Boston, and Garik and my dad sat in the nearby kitchen and talked long into the night, I couldn't help but be glad that they both were happy.
Roadside Chats
The broad range of conversation topics in the car on our way through New England is difficult to enumerate. We talked about history, engineering, politics, philosophy, family – just to name a small few. These kinds of discussions are exactly the reason my father enjoys long road trips, for even those rare times spent in silence are spent thinking about the outside world
My role on these types of trips has traditionally been that of curious listener, asking a question from time to time but mostly absorbing the information before mr. That role has changed over time, as is only natural, to that of ever more frequent participant, sharing my perspective, thoughts, and outlook. While for most of these kinds of trips it is my dad and I, this trip threw Garik into the mix, and I must admit that listening to their reactions to each others words was almost as interesting as the discussions themselves. My mom and Oksana chimed in from time to time, and Dina and I did too, but mostly it was them sharing and us listening, and that's just the way I liked it.
Symbols of Success
Similar to Dina and my visits to Las Vegas, we got to see how successful people choose to live their lives. More than with any passive cinematic experience, we received another glimpse into the fruits of another family's labor, and this glimpse yet again renewed my drive to work harder and longer.
Touring Garik and Oksana's houses, taking Dina out on the lake they own, and hearing about their various businesses both here and in Russia was inspiring to say the least.
Grade School Flashbacks
There was something about New England, its historical foundation, its timeless tradition, which takes me back to every lesson on American history that I had in elementary, middle, and high school. The American Revolution, the Civil War – they all seemed so far removed to me even when reading as many books about them as I did. But being there, in Boston, on John Brown's Farm, in Quincy, unearthed a treasured and living past which served to only reaffirm my sadly rare 20-something patriotism.
Northeast Nature
I'm sure there are words to describe the beauty that Dina and I saw on the trip, but I evidently have exhausted my adjective pool – suffice it to say that each bend in the road led to as much pointing as wide-eyed awe.
The flame colored forests from right to left were only trumped by their own reflections in the cold water of each lake we passed, and it's safe to say that we got exactly the views we flew here for.
So here it ends, our mid-October roadtrip that Dina and I looked forward to since the day we bought our tickets. And while the trip may be over, I take comfort in the fact that its memories are now preserved in not only our minds and photographs, but also this little travel journal.
October 17th, 2009
I awoke this morning to the sound of my dad packing, getting ready to leave for their 9am flight. I got out of bed, woke Dina up, and said goodbye to my parents.
As we had planned the night before, Dina and I took a walk to Boston College, which is about a block from Garik's house. The campus is beautiful, and the gentle bite of the cold air against my face helped wake me up fully.
When we got back, it was time go to Igor's house, so we said goodbye to Oksana, and said thank you for the company, help, and hospitality. We jumped in Garik's car, suitcases and all, and headed toward Needham, a small Boston suburb.
Igor and Lilia's house is located at the end of their street, behind a line of trees that hides their home from the larger street below. Their home is large, with Lilia's office on the ground floor (she is a successful psychiatrist MD). While I helped Igor with his computer (a little Shuttle PC that I built almost 10 years ago), Dina talked to Lilia. After Igor and I came back, Dina confessed to me that after only 10 minutes, she was fully ready to lay down on the couch in Lilia's office and tell her all about her problems. Yeah, Lilia is that good.
Although we only had about an hour and a half to spend with them, it was very nice to see both of them. They are both such great people, and we hope we get to see them again soon.
I did get to chat for a bit with Igor on our way back to Boston, where he dropped us off at a restaurant called The Living Room. The restaurant is located right across from
Christopher Columbus Park, where we sat a week earlier and listened to a free concert on the grass with Joe and Becca. We met Dina's high school & college friend Tina there, and we caught up with her while we ate a delicious brunch breakfast. Tina told us all about life in Boston, and medical school at Tufts.
From there our shuttle picked us up and drove us to the airport, less than a 15 minute drive away (public transportation would have taken 45 minutes apparently). Dina continued reading the book she started on the way here, which she now refers to as "terrible." For those wondering, the book is called The Time Traveler's Wife, a book group style book which sounds unintriguing even when summarized.
Dina spent the flight valiantly trying to finish the book, while I caught up on a week's worth of Instapaper'ed articles. The flights (both to Chicago and to California) were smooth, and we had dinner at the same Taylor Street Market that we ate at on our layover from California – Grilled Turkey & Apple Panini – delicious.
Ironically enough, I finished writing this post, along with the Trip Logistics and Trip Reflection posts on the plane, and then my phone somehow lost Day Eight. I plan on posting the other two tomorrow, but I wanted to make sure that this one was up on our last day.
So here we are, back at my house, yawning uncontrollably. A month's worth of travel in week's worth of time: driving 1200+ miles in four days, seeing old friends and family, experiencing history first-hand- I couldn't help but think to myself as the wheels brushed the Oakland runway: there's still nothing like California.
Other highlights:
Dina saying goodbye to Matilda from a safe distance outside Garik's house, while Matilda (they call her Motya) was behind also behind the screen door for added assurance. Dina also referred to her as "bigemotya."
Dina finally finishing her book just before we landed in Oakland and asking if we could now burn it.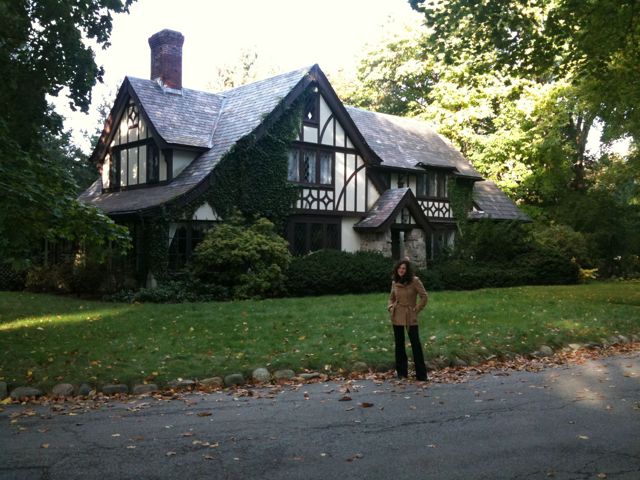 October 16th, 2009
I have to admit here and now that the beginning of the last day of our road trip is a bit of a blur. We spent the day driving back to Boston, and I spent much of the day sleeping.
By the time we arrived in Boston however, both Dina and I were wide awake – we were approaching the town of Quincy, the birthplace of John Adams. Visiting Quincy was something that my dad had insisted upon just before we left California, and I was glad that we could fit it into our roadtrip itinerary.
Although we were only there for a short while, we got to see and step inside all of the Adams' homes, from the one John was born in to the one that John Quincy lived in. The town of Quincy itself seemed a bit peculiar, as these national historical sights were tightly surrounded by standard run-of-the-mill residential areas. This type of setup, along with the realization that someone actually lived in the house John Adams was born in until the 1970s, all made for an interesting perspective on history: I cannot fathom what it would be like to walk past the home of such an important American figure on my way to the store or school. American history lives here on the East Coast, and there is little that our California missions can offer in terms of competition. That said, in response to Dina's question about whether or not I would want to live here, my answer is a definite no – there's truly nothing like California. And the east and west coasts only really compete in old Tupac songs. As we ventured through these historic places, I couldn't help falling back into 3rd grade social studies, singing "this land is your land / this land is my land / from California to the New York Island / from the Redwood Forest to the Gulf Stream waters / this land was made for you and me." Come to think of it, much of our trip took me back to my grade school days, but I'll save the reflection for another post.
After Quincy we drove to a town called Newton, where Garik lives most of the time. Newton is a suburb of Boston, filled with beautiful, well maintained houses from the early 20th century. Garik's house was built in 1923, but has since been renovated.
The highlight of Garik's house was Matilda, his 2 year old Great Dane. Matilda is about 5 feet long and 4 feet tall, weighing in at 120 pounds and black with gray spots. About the size of a pony, Matilda is a sight to see. Not for everyone though as it turned out, as she (justifiably) freaked Dina out. Matilda had been kept inside for almost a week, living with Garik's mom at the Newton house. Therefore, when she saw that Garik & Oksana were now home (and brought new friends), she too (justifiably) started jumping around.
By the time we calmed both of them down, everything was fine, and as it turned out that Matilda is actually one of the sweetest and most calm dogs I've met. She does however think she's tiny, which results in quite a bit of laughter (for most).
After dinner we got a tour of Garik's extensive art collection, ranging from American to European, 16th century books to 20th century handdrawn cartoons. Garik and my dad then went to the sauna, and my mom, Dina, Oksana, Garik's mom, and I all played cards. After a few games of Durak, we switched to playing BS, which turned out to be hilarious, since neither Dina nor my mom can lie with any noticeable skill. While a good quality in general, it's not one in BS. Dina and I were the only ones left playing, and we both quit in the end.
Tomorrow my parents are flying out in the morning, and Dina and I are visiting Igor Feinberg (great relatives on my mom's side) and Dina's friend Tina (who goes to Tufts). Then we'll hop on a plane and be back in California. In the mean time, I'll keep pretending that it's not over yet.
Other highlights:
Making a smiley face on my plate out of syrup, forks, pepper, and half & half. The look of pride on both my mom and Dina's faces was overwhelming.
Getting to eat homemade "blinchiki c masom" at Garik's house. So good.
October 15th, 2009
Today's drive took us further north to Maine, and after 6 hours locked in the car, I was ready to run around just about anywhere. I got my chance later in the day, but I should start at the beginning.
After heading out this morning – we seem to be checking out of our hotels at 9am on the dot – we drove toward Maine in search of breakfast. With the help of Yelp once again, I found a place called A1 Diner, which seemed to have a decent rating, and, more importantly, to be the only place around (literally). A1 Diner turned out to be a classic 50s diner in the tiny quaint town of Gardiner, Maine, and resembled a an old train car. It was very nicely maintained, and the one guy behind the counter managed to provide not only excellent but also entertaining service. The food was delicious with one exception – the guy recommended something called Ginger Beer, a local root beer alternative which was supposed to be great. It was horrifically disgusting. Other than that though, breakfast comprised of traditional American comfort food, with a delicious diner twist.
Back in the car, we headed towards Bar Harbor, a small town on the Atlantic surrounded by mountains, rocks, beaches, and boats. I skipped the part where we sat and sat in the car on the way there, partially because that meant that Dina and I were sleeping, and partially because it wasn't particularly notable.
However, once we arrived in the ocean-side state park near Bar Harbor, Dina and I got all of our pent up energy out by walking and climbing on the rocks by the shore. That's right, even Dina climbed up to the tallest rock. It was all very impressive.
We then drove up to Mt. Cadillac, the highest peak around, to watch the sunset. Although the sunset was beautiful, and the 369 degree view of the forests, islands, and inlets was great, it was astoundingly freezing up there on that mountain, and Dina and I ran back into the car, despite having been stuck inside it all day. Also, having been spoiled repeatedly by the breathtaking sunsets of California (and Kauai), Maine's sunset paled slightly by comparison.
With the sun retired, I once again was charged with finding a good lobster restaurant, as Bar Harbor is known for its fresh seafood. I chose the West Street Cafe, a decent sized restaurant with a line out the door. After a short wait, we had a delicious lobster dinner, including the famous New England Clam Chowder and at least 4 full Bar Harbor lobsters. I've never eaten a while lobster before, but it was both delicious and exciting to consume.
We ended the day by playing the stick game (Mikado) with Oksana, Dina, and my Mom. Dina and I had big hopes of going to the jacuzzi, but since it turned out that it's outside in the below freezing weather, the stick game turned out to be a fun alternative.
Tomorrow we drive back to Boston, and my dad and I are planning to also visit the John Adams museum in Quincy. Our trip is winding down, but for now we're trying not to think about it.
Other highlights:
My dad and Garik taking the second of their long nighttime walks outside in the cold. The first one was in Lake Placid, but this time they vocally resisted to the wives tagging along. Those two and their walk & talks.
Finally getting an old version of Yelp back on my phone (I won't get into the details, but I was trying – unsuccessfully – to do that all day). The trip is almost over and I might not need it, but it's nice to know that I solved the problem!
October 14th, 2009
It is pretty amazing how fast the day goes by when you're on vacation. Today was mostly a day on the road, and the drive from Lake Placid to North Conway was probably the most beautiful yet.
Seeing all of the much-touted changing leaves of the Northeastern fall doesn't seem to get old, and each turn of the road reveals a fresh new perspective on a timeless time of year.
Our destination was Franconia Notch, a New Hampshire State Park. The park, or what we saw of it, is a massive mountainous forest, with gorges and waterfalls criss-crossing throughout. For two hours we followed a trail beside dense trees, chipmonks, rivers, and massive rock formations. It was below freezing in the park, but the walking and stairs warmed us immediately. The views of the yellow trees culminating in the snow covered forests of Mt. Washington made this stop on of my favorites on the trip so far.
Before leaving Franconia, we stopped by a small hotel which had a very tall lookout tower, and for 50 cents my dad, Garik, Dina and I climbed the neverending steps to the top. I must admit that the climb and quarters were well worth it, for from that perch we had an unobstructed view of our surrounding colorful forests. The tower was located in a place called Indian Head, after a large rock which resembles the profile of an Indian chief.
Feeling hungry and accomplished, we jumped back into the car and headed toward North Conway, a small New Hampshire town in the mountains. Thanks again to our good friend Yelp, we found a nice little restaurant called White Mountain Cider Company. The food was by far the best we've had on the trip, and although the service left much to be desired, the fresh (and hot) apple cider made it all worth the wait.
Tomorrow it's on to Maine, where Garik has promised us both beautiful scenery and fresh lobsters. Should be fun.
Other highlights:
Sleeping in the back seat of the suburban on the way. Both Dina and I seem to fall asleep in 15 minute spouts throughout the drive. We sure do deserve nap after all that sitting.
My mom preparing to yell at our waiter for bringing her the wrong salad, when it turned out that it was actually Oksana's salad that my mom mistakenly took. Luckily the service was so slow that the waiter didn't show up again until after we realized what happened, and the already horrified waiter was spared another tongue lashing.
October 13th, 2009
Well, I actually already wrote today's entry once, but somewhere in the process of publishing it, the post got lost. Frustrating, but here's my second shot.
We woke up early today, so as to get on the road and see the sights. Parting with Garik's Warwick house was bittersweet, as it had provided us with a full day and a half of nature, relaxation, and general good times.
The drive to Lake Placid took almost all day, since we stopped along the way for various reasons, the most frequent of which was to gawk at the splendid red, yellow, and green forests that seemed to flow around every corner. The temperature outside dropped significantly as we approached Lake Placid, and one more color was added to the surrounding pallate: fresh snowy white.
Lake Placid is a small sleepy ski town, whose claims to fame were the winter Olympics decades ago, and John Brown's farm. Why, or better yet, how a small town like this could host the Olympics was more than a fair question, but we were here to see the latter claim to fame. John Brown's story was eclipsed by the Civil War in my American History class, but Mr. Brown is worthy of much more than a few textbook paragrphs. He was a man of conviction, a man before his time, and was promptly executed for his (albeit violent and illegal) efforts to free slaves. Although the museum on his farm was closed today, it didn't matter. We came here to honor a great man, and honor we did.
After we arrived at our hotel and checked in, we threw on our warmest winter clothes and walked along the little shops which lined Lake Placid's Main Street. After a while it began to snow, and we went to dinner at a antiquey Steak & Seafood restaurant nearby. Everyone seemed to enjoy their meals, and I specifically ordered a small entree to save room for the New York Cheesecake that Dina found for me on the menu. After much anticipation (and talk about it), no one else wanted dessert, and I abandoned my dreams of New York Cheesecake in New York State. Next time.
To be honest I don't know where we're going tomorrow, except that it's called North Conway and that there is a reportedly beautiful park there. Guess we'll see.
Other highlights:
Driving through the little towns on our way, it was sobering to see how many shoppes had closed down and retail space stood empty. This recession hit Main Street hard
Buying a cap from the Gap in Lake Placid – first kind of hat like that I've ever bought – everyone said it looks alright though
Ending the day by playing Mokido with Dina in the hotel lobby. It's a jenga type game that we bought along the way here. Dina played it in Israel, and it requires a steady hand that I simply don't have. Oh well – not going to be that kind of doctor.
October 12th, 2009
I woke up this morning to the sun shining through the windows in my room, and illuminating the yellow and red leaves on the trees that we came out here to see. These trees surround Garik's house, which we got to see for the first time in the light. The house and property are both beautiful, like some fairytale retreat in the middle of the forest.
After a quick breakfast, we threw on our coats and headed for the forest. Our mission: to pick all of the (non-poisonous) mushrooms we can find. Now to the average person that might not sound like a normal thing to do, but my parents have been looking forward to doing this very thing for ages now, and have often talked about their mushroom picking adventures back in the motherland.
Walking through the forest was an experience in and of itself, as the sound of twigs cracking beneath our feet was seemed like the only sound for miles. At first both Dina and I hesistated to participate in the mushroom picking, but we quickly overcame any remaining hesitation after my parents explained what we were looking for, how to do it, and, perhaps most importantly, what we wanted to avoid. So as we walked, we would come up on a patch of mushrooms which seemed to grow in large outcrops, and we dove right in, filling our woven baskets until they were overflowing with fungi (wow haven't ever said that before). That didn't stop us though, as we dropped our full baskets on the side of the dirt path and proceeded to fill plastic bags. Walking back to Garik's house each with at least one basket and one bag, we couldn't help but feel accomplished.
Back at the house, I came across a little rowboat laying beside Garik's dock. Somehow (I don't actually remember asking her) I got Dina to get in it, and I took her out on the beautiful treelined lake. With the water below us and the fall colors reflecting all around, it was quite a sight to see.
Once on land again (Dina seemed actually content with our little voyage) we began to begin the process of cleaning all of the mushrooms we had picked. I don't think anyone realized the unbelievable amount we picked until we finished cleaning all of them, which took the better part of 2 hours (see the pictures below).
While the parents worked on cooking and preparing the mushrooms for dinner, pickling, and storage, Dina and I watched an old Russian movie. The movie is about Kiev in 1918, just as the Red Army, Germans, and Ukrainian Nationals were all closing in on the city. It was an interesting story, but since the three part movie was three and a half hours long, Dina and I found ourselves dozing off and taking several breaks just to get through it.
All in all, it was a relaxing day, and we're all looking forward to starting our weeklong roadtrip tomorrow morning.
Other highlights:
Taking Dina out on the lake was probably my favorite activity of the day, particularly in preparation for my sculling class when I get back
Trying to code a little header for this travel journal website on my phone – it ain't easy and I didn't get very far (sorry about the hideousness)
October 11th, 2009
It's difficult for me to believe that I woke up this morning in Cambridge, on the floor, in an apartment with Joe and Becca and Dina, and here I am now – it's 3:30 in the morning in what can only be described as a luxurious forest retreat. But there'll be more on that later – back to this morning, and Cambridge.
We woke up around 9, but didn't actually get out of the house until 11, at which point we headed for breakfast at an establishment called Zoe's (appropriately the currently likely name of my soon-to-be-arriving niece). After breakfast we ventured out into Cambridge and Boston proper, seeing in daylight the places we walked through last night in the dark. Through Boston Commons, the River Charles, and the freedom trail, we walked and enjoyed the beautiful blue skies and each other's company, both keeping us warm against a cool Boston breeze.
Our tour of Boston included the Columbus Day Parade, weaving through the bricked historical buildings much like the freedom trail we followed. Although I can't say for sure, but I'm pretty sure that I haven't seen a parade in person since about 6th grade (the new years' day Rose Parade in Pasadena). Filled with drumlines, classic cars, politicians, and a whole lot of Italian pride, the parade added a certain something to our small amount of time in Boston that I couldn't quite put my finger on.
After the historical sites, climbing on an art display, and a short ride on the T, we were back in Cambridge waiting for my parents and their friends to pick us up. Parting with Joe and Becca wasn't easy, but as we got into the third row of seats in our rented Suburban, both Dina and I were glad to have gotten the chance to spend even a few hours with both of them.
From Harvard we drove towards Leominster, a small town where we met Garik's daughter Katya and her husband Kevin for dinner. It was a delicious steak dinner for all, though Dina seemed much more excited by the prospect (and realization) of unlimited warm bread.
After dinner we drove to Garik's brand new "dacha" in Warwick. Although it was already dark when we arrived, this 5 acre lakeside retreat was in the middle of a beautiful forest, and I haven't even described the house yet. Designed by his (clearly talented) architect wife Aksana and project managed by Garik himself, this house is a beautiful collection of countless bedrooms and nonestop beauty. Although it's massive (~8 thousand square feet), the entire house is well decorated and wood paned, giving it both warmth and soul which we felt from almost every corner as we got the seemingly endless tour.
The night wasn't over however, as we then sat around the fireplace, lights turned off leaving the illumination to only the flames. The parents shared stories as the glowing wood crackled and glowed beside us, and it wasn't long before the guitar was taken out. I think I'll leave my description of what's been dubbed the "Gordin Family Singalong" to another post, but suffice it to say that little in the world makes me happier than times like these. We sang songs (even Dina sang along!), passed the guitar, and laughed our way into the night. Although tonight was an entirely different kind of satisfaction than that of the night before, I have to say that this trip has been amazing so far. Tomorrow we spend the day here in Warwick, starting with picking mushrooms in the surrounding forest (something my parents have done and touted for many years, but Dina and I have yet to experience first hand). Should be fun!
Other highlights:
Jumping and climbing on the angled metal artwork with Joe, competing for height and style as judged by Becca and Dina
Getting to play with Katya's puppy, a very cute 3 month old white and red Irish Setter
Hearing my dad and Garik sing together, both smiling, laughing, and time-traveling to another time in another world.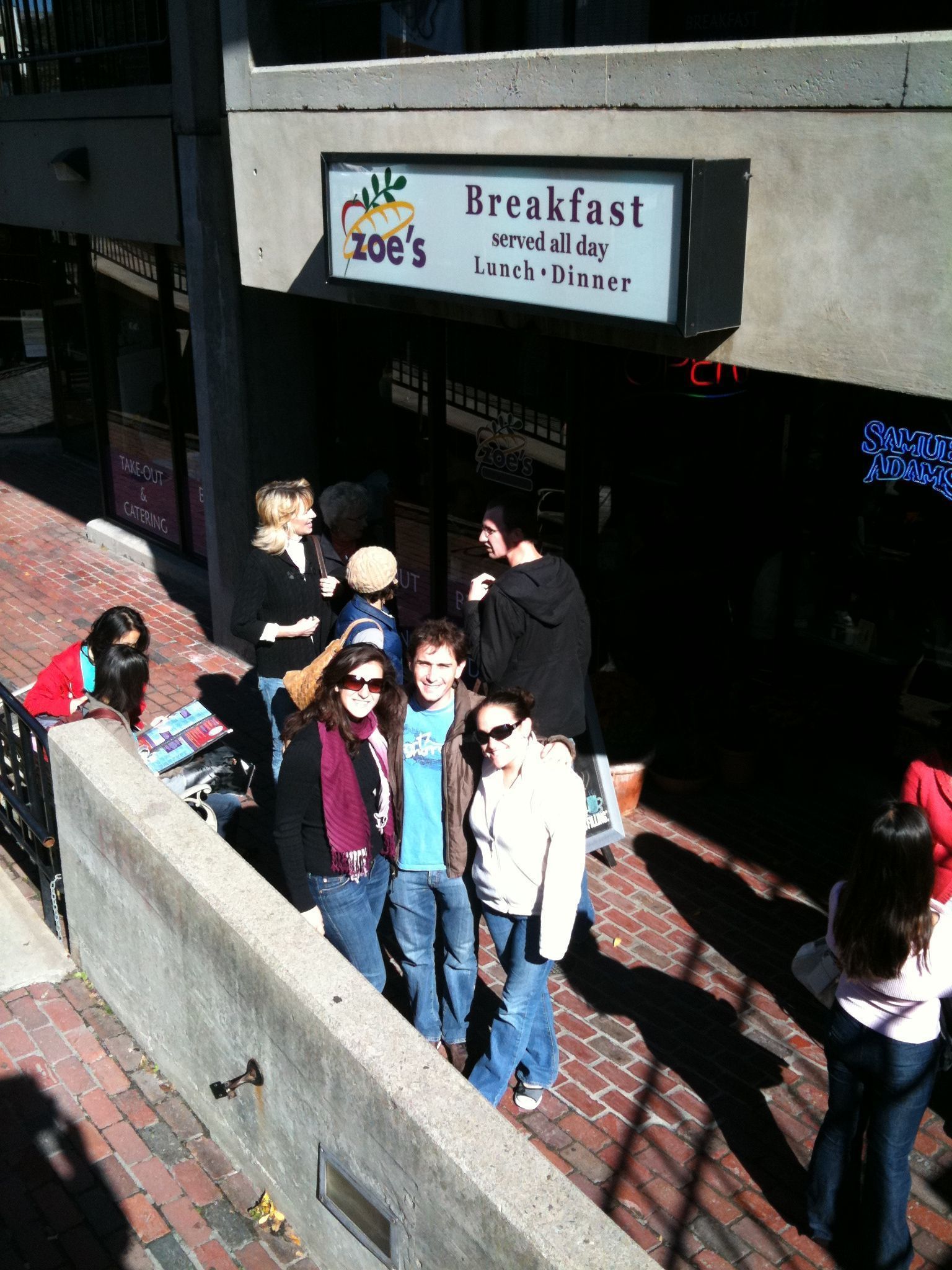 October 10th, 2009
Today started bright and early. Well, to be honest, little was actually bright – this was four forty five in the morning, leaving from San Francisco for absolutely no reason except our own incompetence. Let me explain.
Since our 7:55am flight to Boston was out of SFO, we reserved a shuttle from Dina's house, and I lugged all of my luggage on BART in the middle of the day yesterday so as to be ready in the morning. As Friday wound down and Dina checked our flight status, it became clear the our flight was not out of SFO but actually Oakland. A mistake like that is a great way to start our vacation. Luckily I managed to change our shuttle reservation to take us to OAK instead, only losing $15 extra and about 30 minutes of solid sleep. Arriving at Oakland airport at 615, at our gate by 630, we were left with a good hour and a half of little more than restless reverie.
Our early morning flight took us to Chicago Midway by midday, where we rolled off of our plane and into the terminal with nothing but animal crackers to eat. Luckily we found a nice sandwich shop in the B terminal called Taylor Market, where I ordered a delicious Grilled Turkey and Apple Panini sandwich – probably the most delicious airport food I've ever had. It's never crossed my mind to throw a thin slice of apple into a melted concoction of Swiss and turkey, but from now on I'll know better.
No longer hungry, we boarded the second leg of today's trip and headed toward Boston. Exhausted but satisfied, I managed to actually get some sleep on the plane, and woke up just as we were landing, a magnificent sunset welcoming us both.
With a smile on his face almost mirroring that of ours, Joe picked us up from the airport and we headed toward Becca's house in Cambridge. Post-hugs and welcome, we ventured into Cambridge, walking along wavey bricked sidewalks lined with houses of brick and siding which seemed to radiate the history and nostalgia which the left coast so lacks.
John Harvard's was our dinner choice, a restaurant and brewery brimming with college students taking the edge off the past week's work. There we caught up and basked in the past, pitcher after pitcher, laughing as if our lives hadn't changed when those we loved moved away. It was amazing to be around both Joe and Becca again, and I think both Dina and I realized the extent to which we both missed them.
So now as we lay down for the night in Becca's apartment, on this slowly deflating matress, I decided to write about this trip, if only to look back on it later, and truly understand what I don't understand quite yet.
Other highlights:
Finally getting to wear my scarf for the first time since buying it last winter
Finding out that Josh finds Dina's beauty only second to that of their disabled window washer
Closing my eyes right now, mattress completely deflated, Joe snoring on the couch, Dina sound asleep. It's going to be a great trip.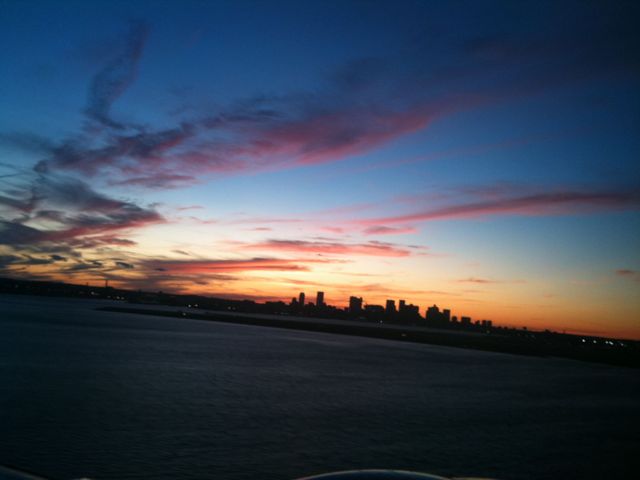 Northeast Bound
This is my journal from my and Dina's trip to the Northeast in October of 2009. We took this seven day roadtrip with my parents and two of their friends, while seeing some of our east coast friends on either end of the trip.
It should be noted that Dina and I took this trip with my parents before we were ever engaged (that would come in December 2009), and it provided a great opportunity for my parents to get to know her a bit better.
It was a great trip - the details you'll find in the entries on the left!